You may not be a Picasso but good make-up brushes make for good make-up artistry, and one of the questions I am frequently asked is which are the best and which the most essential. So here it is, Brush 101, for the make-up addict and the newbie alike.
If you've attempted make-up brush buying recently, in shops or online, you might be overwhelmed at all the choices. At various price points and styles, it can be confusing, unless you've used a lot of them or are already loyal to a particular brand. I'm going to give you some good advice which I hope will help if you're doing your Father Christmas (aka Santa) list or if you want to get gifts for a make-up addict.
I have, over the course of my career, amassed many brushes! My first make-up job was at M.A.C, and we were lucky enough to get a generous amount of free stuff, twice a year. I mostly chose brushes because they were most costly, and I had an endless supply of makeup, so even though I was there just over a year before my freelance career really took off, I had a good collection of basic brushes to use for work. I've took great care of them and even have some of those original MAC brushes (when they were still fabriqué en France). Today I lug around a vast number of brushes, each one with a specific job to do, made with real hair and acrylic (both have their purpose); I have to have multiples because there are days when I can use upwards of a hundred to get a job done. I have my favourites, use them constantly and get anxious if I can't find them! Which happens occasionally (intro sad music).
For my personal use, it's a different story, so here's what I think you need to be able to create beautiful makeups on yourself. With these basic but splendid brushes you can achieve most looks without blowing the budget, and of course you can build on them as budget and desire allow. As with most things it's worth spending the money on good quality brushes but it's not always necessary. The ones I'll recommend here are not specialty brushes and are the ones I have in my makeup bag. You may be surprised at how few I think you need!
Concealer brush – This is one of the occasions when acrylic rules. A good brush for concealing under and around the eyes should be flat but flexible. The brush needs to have acrylic "bristles" because they are better for use with creamy products. My fave concealer brush looks like a miniature oar, and it can bend around all the curves of the eye. I got mine in Canada from a line called Quo and it was cheap! Look for a brush like this…Have since found an amazing one from Chantecaille which you'll think looks big but isn't at all, it's great from getting in all the nooks and crannies where concealer has to go.
Spot brush – for deleting life's imperfections. This brush should be very small and have a good point to it, because you'll literally use it to 'dot' concealer on to whatever it is that needs vanishing. If you use a big brush and lots of product you'll draw attention to a spot or blemish. My very favourite dot brush was one from Japonesque which went "missing", grrrr, and was then discontinued. The trials and tribulations of a MakeUp Artist! I was introduced last year to the handmade brushes of London Brush Co and now love them for dotting.
Medium eyeshadow brush – it's better if this one is a bit fluffy, to pick up lots of product and deposit it onto your eyelid! Soft bristle brushes are gentle on the eye area and a medium size is the most useful to start with. Because I am clever I have a double-ended one, two brushes in one, from iT Cosmetics.
Crease brush – so called because the shape of the brush fits comfortable into the crease of your eyelid. It should be nicely tapered to deposit shadow into that crease and then blend it beautifully. I'm currently using an acrylic one from the Sephora/Pantone collaboration and really love it. The Pantone Colour of the Year that year was emerald and it's gorge.
Pencil brush – You may not have even heard of a pencil brush, but believe me, you can rewrite your makeup with a pencil! It looks just like a stubby pencil and is magnificent for smudging and smoking up your eye makeup. Use it to smudge pencil eyeliners close to the lash line or to apply eyeshadow all around the eye for a true smokey eye. I love pencil brushes! Honestly, invest in one, it'll change things. This one, the MAC – 219S Pencil
 is very adequate but I have since discovered Charlotte Tilbury Eye Smudger Brush
 which is softer and had a bigger surface area for perfect smokey effects. Truly love it.
Powder brush – I intend to change your opinion about powder brushes. They are not essential. If you think you have to "set" your makeup with powder then we should talk. Gone are those days, products are made to last and you'll lose all your glow. Too much powder makes your skin look flat, it looks like makeup, and it's ageing. Nobody likes a Mrs Danvers. If you must have one (say you need need to wear powder in the t-zone) make it a small and fluffy one. Made from real hair, it should gently deposit powder onto the areas you need it and not your whole face. If you really, really think you need to powder your whole face you're probably not in the right foundation for your skin type. There are so many beautiful foundations for oilier skins. If you need recommendations, please message me, I'm so happy to help. My favourite powder brush is a small square-shaped natural hair brush from Japonesque which is incredibly soft.
Dome brush – a dark horse of the brush world but an amazing and useful tool. Dome brushes are fantastic for contour and blush because they blend and blend and blend. I really love my dome brush. It's from Royal & Langnickel in LA, is 100% vegan with supersoft synthetic bristles and was about U.S$15 US. A great investment, I've had it for ages. Check them out online, they have amazing brushes.
These last three aren't essential but you might want to add them sooner rather than later..

Bronzer brush – instead of the powder brush, the bronzer brush should be the biggest, softest brush in your arsenal. I love a real hair brush for bronzer and use MAC – 138S Tapered Face
 to pick up the bronzer and sweep it where it needs to go – over the cheekbones, down the nose, across the forehead. I do a sweep on the neck as well. The tapered brush is a perfect shape for sweeping around, doesn't deposit too much product because it's fluffy and soft, and blends beautifully. There are loads of lovely acrylics that will do the same job, try to find a tapered one. Remeber, the larger the brush the less product it will pick up, which is what you want when you do bronzer so it looks real and not baked. If you never wear bronzer then a) you are very lucky  b) you needn't have read this part!
Lip brush – If you're a glossaholic then just use the wand it comes with, same for so many lip products. Lipstick bullets are shaped to be applied straight to the lip, but if you are more comfortable with a brush, get a proper one and not one of those weeny retractable things which I swear are made for dolls. I use a lip brush (when doing someone else's makeup) that wasn't designed to be one but it works for me; it's paddle shaped and not too tiny and it's flat edge means I can do all the lip shaping with the brush itself. I picked up loads of these at a trade show, the company name has worn off but it looks like this and has flexible bristles for applying to curves.
Flat Eyeshadow Brush -these come in handy for doing more intense eye makeups. The flat shape is good for picking up and depositing eyeshadow if you do more dramatic eyes. Then use your crease brush or medium brush to blend it. This one is #195 from M.A.C. but if you can't find it the
Nars Eye Shadow Brush #40
 is also really good, for picking up a decent amount of shadow and putting it precisely in the right place before the blender brush gets to it 🙂
And the most essential Brush of all! Just can't help myself. Boom Boom.
So I think that's it! Shocked? Only seven brushes in the essential category and three more for fun, think how much money Father Christmas will save.
By the way, I'm not sure about the necessity of an angled liner brush (though I know that many people love them). So many eyelining products have pen applicators which are brilliant; this brush has been made almost redundant, but if you're a liner fanatic it's nigh impossible to do a great liner on yourself without one of these. If you're an aspiring makeup artist they are a staple of your kit, and the best one I've found is Nars Kudoki Kabuki Brush
 because it won't splay out over time. I'm hoping very few of you are using them to put powder in your brows because there are much better choices out there.  I was never a fan of powder in brows because it looks like….powder in brows! So many product on the market now will imitate what real eyebrows look like so please put the powder down.
If you add a Beauty Blender original beautyblender + mini blendercleanser solid
 to your toolbelt you'll be laughing. It does away with an expensive foundation brush, takes your makeup to the next level AND you can use it for powder (see previous post).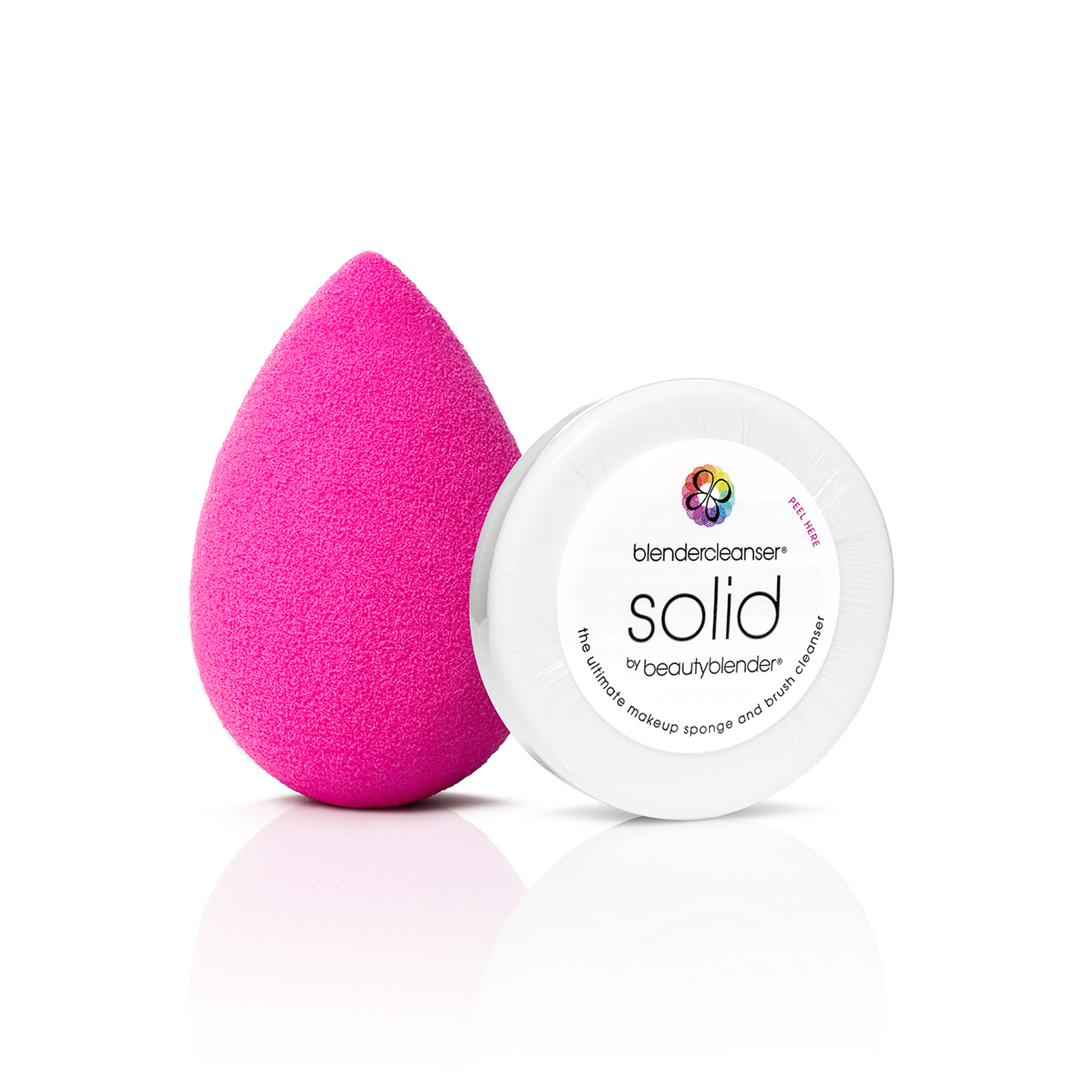 When buying brushes hold them in your hand to feel the weight and to see if the length of the handle is right for you. I prefer long handled brushes, which are pretty standard. Short handled ones are best left to travelling brush sets I think but if they feel better to you then do it. By the way I don't have a travelling brush set – I take my trusty brushes wrapped in paper towel in a ziploc. Ziplocs are the best travelling companions.
My very first makeup brushes werefrom M&S. They had ceramic handles and I knew nothing about the world of makeup then, oh happy days! I kept them in a Snoopy container, which I still have and is as precious to me as my KitKat 25th Anniversary mug.
Brushes have come a long way since then baby, but you don't have to go a long way to find good ones. Department stores, chemists (drug stores in N. America but not where you go for drugs), makeup stores and online, take your pick and have loads of fun with them! Doing makeup, your own or someone else's, is not called artistry for nothing. The canvas may be human but the techniques are similar, and like any artist, the tools of your trade can help you or hinder you. Best of luck! By the way, yes that's me in the picture with the Picasso Face. This is what makeup artists do when they're bored.
P.S Don't forget to take care of your beloved brushes!! They will serve you long and well if you do…(see "Spring Cleaning" post from last year on how to take care of them). For a variety of price points check out these options:
Not forgetting beautiful vegan sets available:
For those of you in Quo territory (Canada):

In kangaroo territory (lucky you!):

PRODUCT REVIEWS Mylifeinmakeup.com does not receive any monetary compensation to review products. Most reviews are based on products purchased personally, and preferred, or not. Occasionally I will receive products from makeup companies and will choose whether or not to review them here. Receiving products has no bearing on the opinion of the review, nor whether I choose to review it or not. All opinions are just that, and are honest and unbiased. Recommendations are based on the knowledge I have gained during almost twenty years as a professional Make-Up Artist. Mylifeinmakeup.com is not to be held responsible if you decide to purchase an item and are dissatisfied with it.